RYAN BARNETT
CEO – VETTED HOLDINGS LLC
Making the case for setting up a Vetted Virtual Technician account on all your LPR and IP based cameras.
An excerpt from a CNN.com news article started as follows: "Just before 8:30 a.m. ET Tuesday, the New York City Fire Department received a report of smoke at the 36th Street subway station in Brooklyn's Sunset Park neighborhood, according to FDNY. When the first responders arrived, they found multiple gunshot victims throughout the subway station and others who were injured in the chaos.
The Manhattan-bound N train was pulling into the 36th Street station when the shooting began, NYPD Police Commissioner Keechant L. Sewell said in a news briefing Tuesday."
What we know is that the there was a shooting and a terroristic effort at the subway station and that the alleged perpetrator, Frank James, has been arrested. What is also known, much to everyone's chagrin, is that the Metropolitan Transit Authority announced that the closed-circuit television cameras in the subway station were not working. Why? That is not known at this point. Fortunately, there was a significant amount of evidence that generated enough leads to point towards a suspect exceedingly early in the investigation. But what if there was not? Someone may still be held seriously accountable, but if there was no ability to identify and apprehend Mr. James? Do you want to be the person reporting the cameras were down, there is no other evidence, and the assailant is still at large with no line of sight toward interrupting him?
This is where a network monitoring solution like Vetted Virtual Technician (VVT) from Vetted Software Solutions comes into play. Vetted Virtual Technician is an online tool for monitoring the health of Internet Protocol (IP) connected License Plate Reader (LPR) and Closed-Circuit Tele-Vision (CCTV) cameras and provides a graphical User Interface (UI) with system dashboards, automatic trouble alerts, remote triage, rebooting, and more.
In a world that is only growing increased camera infrastructure, the burden to monitor, reset or respond to and put cameras back online is already a monumental task. What does the lift look like with twice as many cameras? Three times? Ten times? Vetted Virtual Technician is positioned to be what every solutions provider offers: a force multiplier. You can reduce the number of down cameras and for shorter periods of time while also maintaining a smaller support team to address problems when they arise. Vetted Virtual Technician offers:
Officer Safety (for public safety agencies): Situational awareness in the form of alerts
Increased return on investment: Greater system uptimes
Increased efficiency and productivity: Saving time and money on reduced field calls
Reduced Crime Rates: deterrence and investigative lead generation
As a web-based software application Vetted Virtual Technician allows law enforcement personnel, or any other entity who maintains a camera system, to view the status of their in-field equipment and server communications. Whether in-car, fixed, or trailer mounted LPR systems or an IP based CCTV camera system, VVT monitors all the key hardware/software components of your sensors 24/7. This includes each system's power supply, CPU, cell phone router, internet connectivity, and network communication.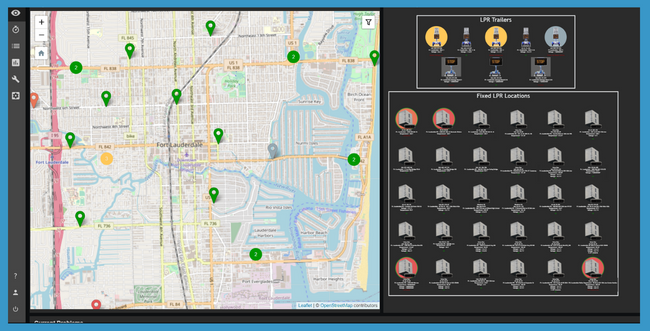 The VVT mapping capabilities provide extensive visibility beyond just your physical location:
Enables the ability to see all locations specifically
Ability to view statuses of both running and problematic sites
Red icons indicate attention is required at the location on the map
In 2021 Vetted Software Solutions and Vetted Security Solutions have deployed a network of more than 100 sensors with VVT for a large metropolitan police municipality. As camera counts increased so did the burden of monitoring and ensuring cameras were online. FINDER Virtual Technician has eased this burden by performing as promised. On multiple occasions VVT has provided notifications of "down" cameras and the agency was able to swiftly bring those cameras back online. While some of the sensors required a physical visit, others were either reset "virtually" by a human "technician" or in the best circumstance, by VVT automatically restarted the camera after going off-line.
Cameras that are not functioning are nothing more than artistic aesthetics, assuming they are attractive. If not, they are expensive eyesores. Tools like VVT ensure that your systems provide value to your officers and the community.
To learn more about Vetted Virtual Technician contact Vetted Security Solutions.